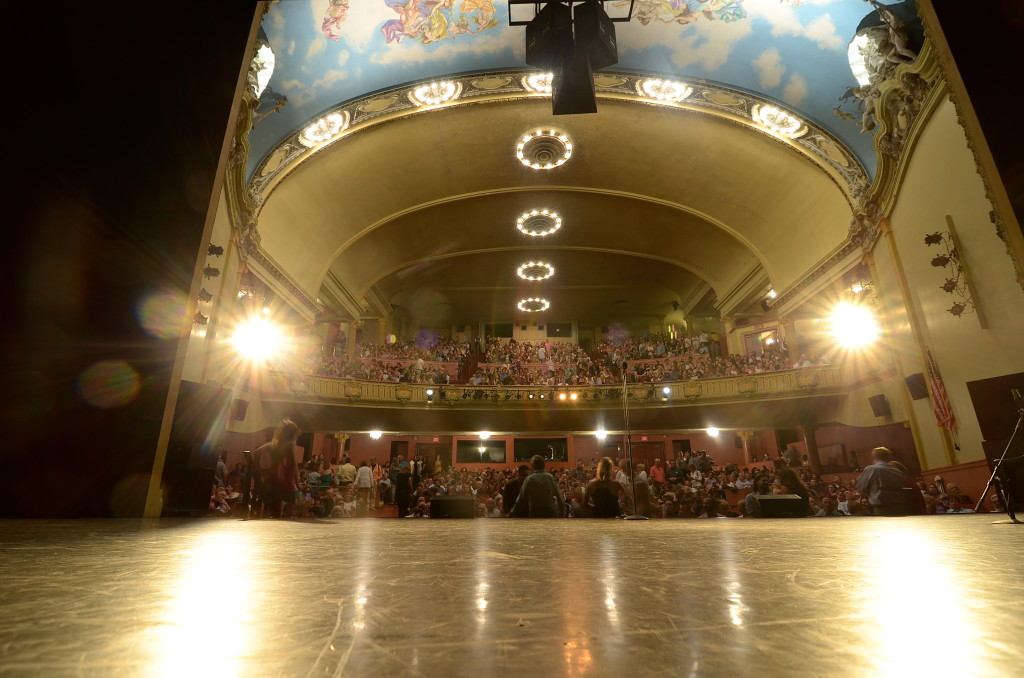 I was honored to be invited to perform as the soloist and featured performer for the Moth Mainstage event at the Byham theater in Downtown Pittsburgh.
from the Pittsburgh Arts and Lectures writeup:
"The acclaimed storytelling group, The Moth, based in New York City, will return to Pittsburgh on Wednesday, August 27, 2014, for a sixth annual appearance presented by Pittsburgh Arts & Lectures.  Consistently a sell-out event, The Moth Mainstage is a two-act show featuring five true stories, told live and without notes. A mix of celebrated raconteurs and storytelling novices from Pittsburgh and beyond, this year's lineup will explore the theme "Don't Look Back" in wildly divergent ways."
—–
The Byham theater has 1300 seats,  and it was sold out.   As lights dimmed at the beginning,  then after the intermission, I walked on stage and played my own compositions on unaccompanied Cello. I then sat on stage through the whole event,  in the best seat of the house,  eight feet from each performer.
The theme was "Not Looking Back".
Kate Tellers told a warm story about  her 85 year old mother's last hours,  with family and friends gathering around, sharing cheeses and familial warmth,  paying their respects as the old lady felt her death approaching and called a loving family near.
Vanessa German told a wrenching story of the most positive perspective shift,  on the occasion of the recent death of her abusive schitzophrenic mother, and the moments and words surrounding her death,  and the perspective she found to forgive her mother instead of resent her,  and give her in dying the sort of comfort and tenderness that she and her 5 siblings so long sought themselves.
Richard Price told a fascinating story of his 15 year old great grandfather, born in 1900, as a short 110 pound napoleon-complex russian jew in the bronx with not much sense, taking on a gang of killers and thugs, the fein gang,  in their lair to secure their release of a girl to her mother.  And of how that gang got back at him by praising his courage,  welcoming him, then initiating him by sending him to beat up a girl in a picket line who turned out to be his cousin,  who he begged to play along,  but would not.  The gang saw he betrayed the intent of his initiation (he did not cripple his cousin) and he fled to the docks to save his life,  got hired by a merchant ship (despite the sailor's tale that a jew on a boat is bad luck),  and then having further problems of similar origin when he confronted (on the third day of the journey) one of the rude sailors who demanded coffee from him, by dumping the pot of coffee on his head.  His grandfather was then KEELHAULED,  and survived.  When they got to Algiers,  his grandfather was again duped by the villains, and the sailors made peace with him and offered to take him out for a night on the town,  visiting a brothel,  and eventually slipping him a mickey finn,  knockout drops, and tattooing this jewish boy from the bronx with a large christian cross on his arm, before abandoning him in port of Algiers.   He was told that tattooing over a  fresh tattoo would kill him (infection?), but replied to the tattooist he'd rather return to his mother dead, than for her to see a christian cross on his arm-he wanted the tattoo transformed to an anchor.  He was rendered quite sick, but had the second tattoo, and then as a penniless teenage boy, made his way back from Algiers to New York over 6 months in or about 1916.
Horace Sanders told a story about his divorce and reconciliation with the mother of his third through eighth children.
Cole Kazdin told a story about how she broke up with her boyfriend of several years,  amiably, then was rendered amnesic in a stunt she was roped into as a TV actress (being thrown in the air in a cheerleader outfit amongst people who were supposed to catch her, but didn't).  She forgot the breakup, and doctors asked her boyfriend to play along for the first few days.  The details of how she would make post-it notes to collect details of her life, foreign to her, were fascinating.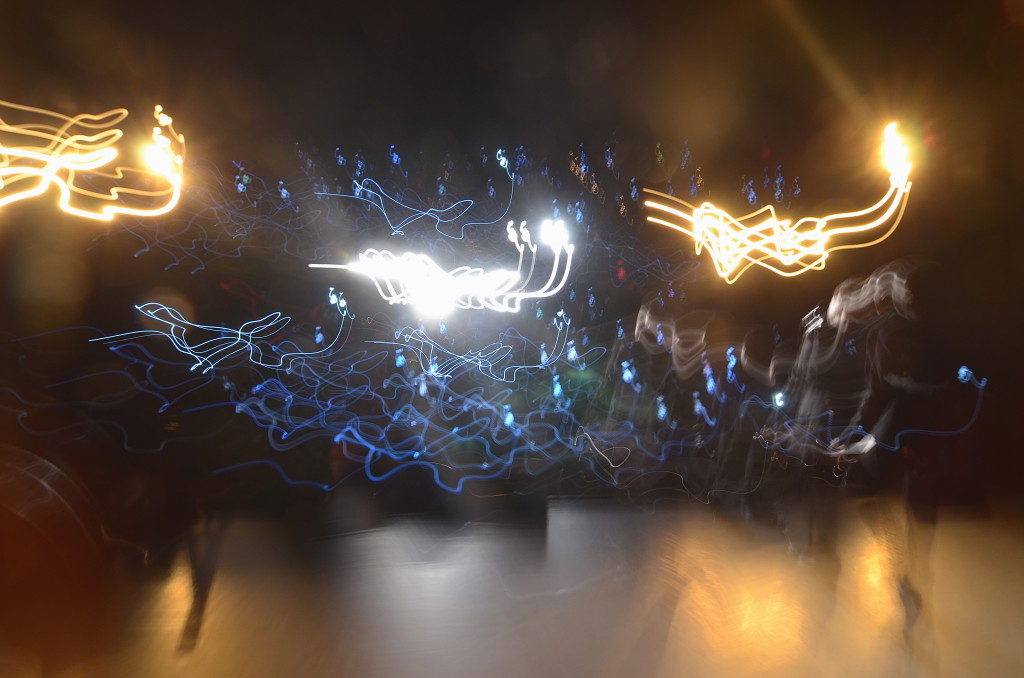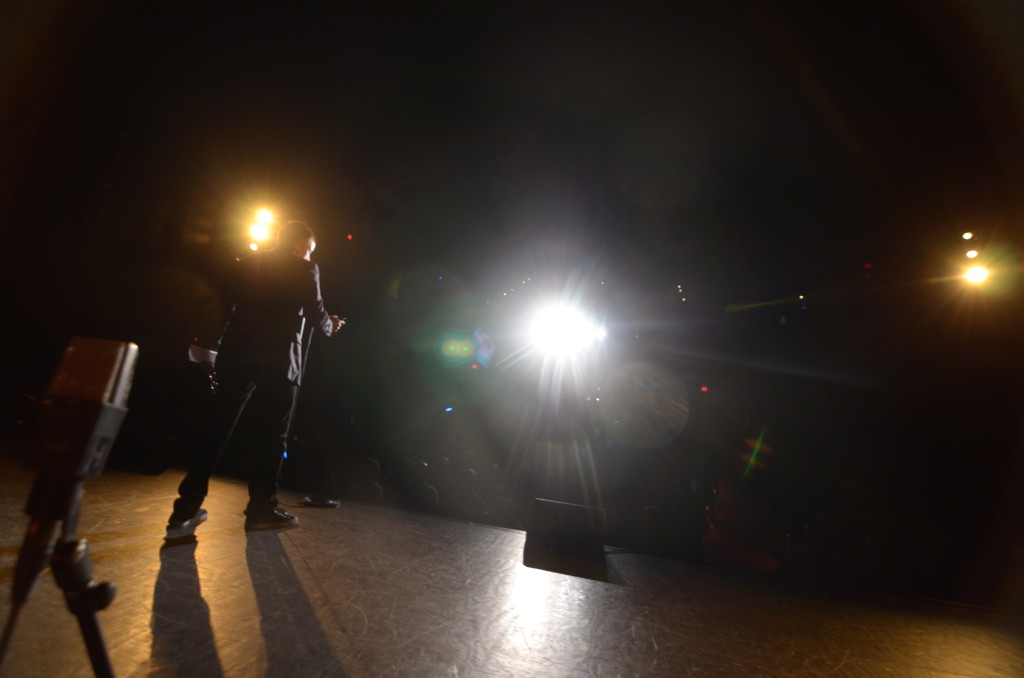 A great pleasure of the evening,  in addition to talking to fascinating people all night, was getting to play solo cello for a half hour in the empty Byham before doors opened.  It is a surprisingly live space,  and there was no problem filling it with unamplified cello.   Perhaps the highest point personally came shortly after I'd played at the beginning of the event, as the host chose to take the first two minutes of the event to tell 1300 people about how impressed he was with the other stuff I do.
Backstage just before going on,  I got to talk to a stranger who turned out to be the executive director of the Pittsburgh Arts and Lectures Series,  Stephanie Flom, who was to follow me onstage to introduce the event.    She and her husband Peter,  I learned later,  met at Pitt,  from which they graduated the year before I was born,  in an experimental degree program in  social activism.  Her career has spanned arts management,  social activism,  her own artistic career,  environmental education, and library and theater establishment. It also turns out we used to be neighbors.  #talktostrangers.